Anthea Fraser Gupta
Research
I'm basically a sociolinguist, and as I lived for 21 years in Singapore it's no surprise that my main area of research from 1975 to 1996 was speech-language therapy in Singapore. I am especially interested in initial referral (by schools, health visitors, doctors, etc.) of bilingual children and of children who do not speak Standard English, and am doing research in this area with an award from the ESRC, in collaboration with colleagues at the University of Newcastle upon Tyne.
You can see some of my publications on a separate page.
Teaching
I've taught in a number of different areas over the the years -- sociolinguistics, phonetics, syntax, history of English, stylistics. At Leeds I look after the MA in Modern English Language. I also look after the foreign students (other than English Erasmus students) in the School of English who spend a year in Leeds. I also teach on the MA in English Language and World Englishes , offering an optional module on Language and Politics. In the academic year 1999-2000 I will be teaching on the two core courses in language offered in the School of English, and am offering the following as option modules:
About me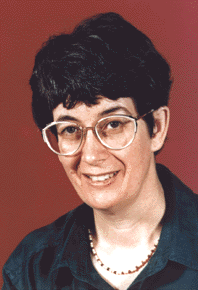 I was born (née Anthea Fraser Shields) in 1951 in Middlesbrough, an industrial town in the north-east of England, and was brought up there. My parents were Albert Shields (1919-1993), who was a turner, and Joyce Fraser Shields (b. 1922), who before she retired worked as a school secretary. I am an only child ("spoilt and proud of it").
I went to the University of Newcastle upon Tyne for my BA. Newcastle upon Tyne is also in the north-east of England, but not so close to Middlesbrough that I lived at home. I stayed in Newcastle, which is an exciting city -- still one of my favourite places. In 1972 they gave me a First Class Honours degree in English Linguistic Studies and Archaeology, and in 1973 a Masters degree in English Language and General Linguistics. My thesis was on the Newcastle-born millenarian, spelling reformer, and orthoepist, Thomas Spence (1750-1814). I stayed on in Newcastle for another two years doing research on the Tyneside Linguistic Survey, but then decided the time had come to move on....
In 1975 I took a job as lecturer in the Department of English Language & Literature at the University of Singapore. Later, the University of Singapore merged with Nanyang University to create the National University of Singapore, where I remained until June 1996, as a senior lecturer (tenured), still in the Department of English Language & Literature. I enjoyed living in Singapore, which contrary to stereotype is also an exciting city with many diverse cultures, extraordinary juxtapositions of the futuristic and the traditional, and all the lively street life that you find in places with warm climates. It is also especially interesting to a sociolinguist, as the generation of Singaporeans born between 1940 and 1965 must be among the most multilingual group of people anywhere in the world.
In 1990, after 6 years of part-time research, I got a doctorate from the University of York (Department of Language & Linguistic Science). My thesis was a longitudinal study of the acquisition of interrogatives in four Singaporean Chinese children learning English as their dominant native language.
I am married to Avijit Gupta, a geographer (a fluvial geomorphologist, to be precise) and we have one daughter, Ella, who, I am glad to say, is studying at my old university, Newcastle upon Tyne! I enjoy reading novels, swimming, scuba diving (when I get a chance...), the theatre, European classical music, travel, and the great outdoors. In Singapore I also sang (soprano) in an amateur choir. I try to write fiction. I find it harder to publish my creative writing than my academic writing but I have managed to publish one children's novel, and a few short stories.
You can contact Dr. Gupta at
School of English
University of Leeds
Leeds
LS2 9JT
England
or
---