Indigenous Domestic Architecture in Zimbabwe
George P. Landow, Professor of English and Art History, Brown University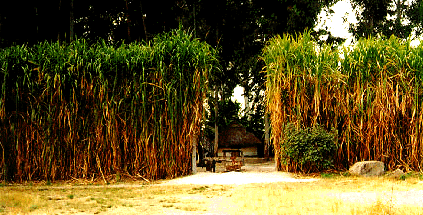 Indigenous architecture: a hut with dried mud walls and thatched roof appears in the entrance of the village on the grounds of Chapungu Sculpture Park. The high grasses serve as a natural fence. Note how, like the Hill Complex at Great Zimbabwe, this structure skillfully employs natural and manmade elements to create a space for human beings.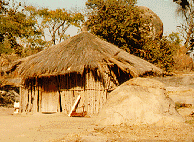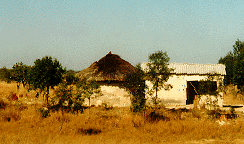 Left: A hut in southern Zimbabawe with walls composed of thin sticks and branches used for storage. Right: A combination of old and new, such as now frequently appears in rural areas. Next to a traditional round hut with thatched roof sits a square, European-style structure.
See also Maureen Grundy's photographs of domestic buildings from the country north of Harare.
---
Photographs © George P. Landow. Scans by Giovana Roz, Brown University Visiting Scholar from the University of Turin. Images may be used without written permission for any educational purpose. Any commercial or other use requires prior written permission from George@Landow.com.
---