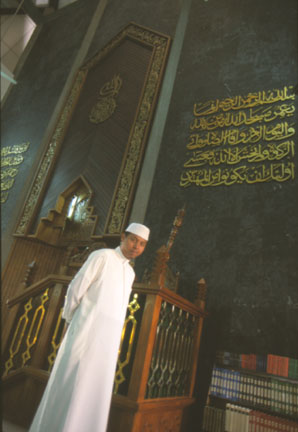 Ustaz Jalaludin bin Hassan, 2001
Imam
There is no priesthood in Islam and so any male who is pious, well respected and learned in religious matters can be the imam to lead the congregation in prayers. All mosques in Singapore generally appoint their own imams. The job of an imam is not just to lead the daily prayers they also provide advice, help and teachings to the jemaah (congregation). There are around 80 full-time imams in Singapore. They would usually have been educated at local or regional madrasahs (religious colleges) or Islamic universities such as the famous Al-Azhar University in Cairo, Egypt.
Fresh from Al-Azhar University is Ustaz Jalaludin, who represents the new breed of young Islamic graduates who join mosque administrations and Muslim religious organizations.
"I discovered upon taking on the job (as an imam) that the role is bigger than what I expected."
Ustaz Jalaludin's responsibilities include providing counseling services, answering queries on religious topics, administrating divisions of inheritance (faraid), giving religious classes at night, and leading two of the five daily prayers in the mosque. In addition, he is appointed by the Islamic Religious Council of Singapore (MUIS) to help administer the imam and khatib (a person who delivers the Friday sermons) body in Singapore, and to participate in the committee responsible for writing the Friday sermons (khutbah).