Propitiations
Gwee Li Sui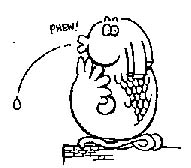 Roving down Queen Lizzy's Walk, seeing
the dear Merlion, marble-scaled, spilling
old waters between its jaws.
A stream, circumflex by ban about
a Prometheus, forever drawing out.
Merlion and I live by laws.
The flesh is weak, I said, Merlion!
My saliva wells up and it
can find no avenue –
but I must never spit!
The Merlion cried, My son,
my son, I spit for you!

Wild Titan factories of Jurong
laid and puffing to a common song
of bad fumes from their maws.
Chimneys raising the offering of peers,
all Ixions, locked to the burning gears.
Both they an I live by laws.
Said I, the flesh is yearning on,
screaming for another choke
on life and revenue –
but I must never smoke!
The factories cried, Our son,
our son, we smoke for you!
Published in Who Wants to Buy a Book of Poems? (1998)
---