Sri Veerama Kaliamman Temple, Singapore, Singapore
Medha Malik Kudaisya, Assistant Professor of S. E. Asian Studies and the University Scholars Programme, National University of Singapore
---
(Click on the pictures to obtain larger images, which take longer to download.) Photographs © George P. Landow may be used without written permission for any educational purpose. Any commercial or other use requires prior written permisison from

.
---
The Sri Veerama Kaliamman Temple, which is located at 141 Serangoon Road, Singapore, is dedicated to the Goddess Kali, one of the most popular manifestations of Devi (the Great Goddess). Goddesses play an important role in Hinduism, and the cult of female-worship may have existed in the Indus Valley Civilization (c. 2500 B. C).
Established sometime between 1855 and 1860 in the heart of the Indian quarter of colonial Singapore, the Sri Veerama Kaliamman Temple was originally known as "the temple at the village of lime" because of lime kilns in the area. It was a simple structure devoid of a gopuram (gateway) and elaborate architectural panels and had a rather plain mandapam (worship-hall) till its reconstruction in 1987. The gopuram consists of representations of different manifestations of the Goddess (reckoned to be more than 3000) and depict some of the myths associated with Kali. Mounted on the top is the sacred syllable Om, inscribed in Tamil.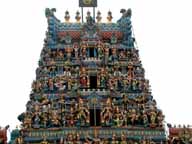 References
Vidya Dehijia, (ed), Devi. The Great Goddess. Female Divinity in South Asian Art. Washington, D.C., Arthur M. Shackler Gallery, 1999.
Related Web Site
---