Overview--Alexandra Hospital: From British Military to Civilian Institution 1938-1998
Jeff Partridge, PhD Candidate, National University of Singapore, in Association with Alexandra Hospital and Singapore Polytechnic
Contents

In these pages, you will encounter the history

of Alexandra Hospital in Singapore, formerly one of Britain's most important and largest military hospitals outside of the United Kingdom. To purchase a copy of this beautiful and informative coffee table book, please see "Purchasing the Book" below.

Alexandra Hospital was built by the British Armed Forces in 1938 on the brink of World War II to serve the medical needs of its troops and their families. At that time, it was the largest and best-equipped military hospital in Britain's "Far East Command." The 32 Coy Royal Army Medical Corps occupied the new hospital in 1940. However, on February 14, 1942, the hospital was brutally overrun by Japanese troops and more than 200 hospital personnel and patients were massacred.

Alexandra Hospital (A.H.) was an important factor in the Malayan Emergency in the 1940s and 1950s, when British troops engaged in jungle warfare against Communist rebels. In 1971, the hospital was handed over to the Singapore government during the British withdrawal from the region.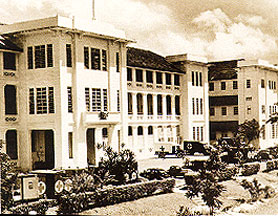 [Click upon picture for larger image, which takes longer to download.]
British Military Hospital, Singapore, circa 1950
As a civilian hospital, A.H. made history as the first hospital in Southeast Asia to perform a successful limb re-attachment. In the 1990s, A.H. embarked on a new mission to medical education when it became part of the campus of the National University of Singapore's Faculty of Medicine.
Written by Jeff Partridge, Alexandra Hospital: From British Military to Civilian Institution 1938 - 1998 is the first book to be published on this historic hospital. Based on new research carried out in England and Singapore, as well as numerous interviews with former and current staff members, the book offers an authentic account of an important institution. The book is designed by the award-winning Viscom Design Associates, under the direction of Sylvia S H Tan.
---