Diary of a Young Medic
Jeff Partridge, PhD Candidate, National University of Singapore, in Association with Alexandra Hospital and Singapore Polytechnic
Contents

I. On duty at Alexandra Military Hospital

Medic Will Brand joined the 32 Company Royal Army Medical Corps (RAMC) at the newly erected Alexandra Military Hospital in September 1940 after a brief stint at the British Military Hospital in Shanghai. His keen interest in people and culture took him and his camera into the very heart of military and civilian life. The following descriptions and photographs were donated by Mr Brand, who today resides in Zimbabwe.

"In Early September 1940, Shanghai was evacuated and we found ourselves roughing it on a small coastal steamer, the S.S. Hosang, on our way back to Singapore. We arrived at Keppel Harbour in that same month and were conveyed by lorry along Alexandra Road to the entrance of the hospital. At that time the entrance was little more than a break in the hedge of hibiscus and various trees. There were two concrete posts but no notice indicating what that shiny, modern building was on the small rise.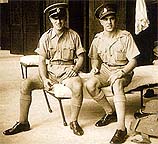 [Click upon picture for larger image, which takes longer to download.] Brandon and Ted Wheele, Laboratory Assistant, at the verandah of Barrack Block of Alexandra Hospital.
"We were quickly brought back to reality as numerous N.C.O.'s with clip boards started the usual shouting to us to get fallen in and all the rest of it. As names were answered, we made our way to the bed spaces allocated on the first and second floor of the barrack block. The first effects of our arrival was to thoroughly depress us. We thought we were long done with the repressive atmosphere of the training depot in Crookham. There was no welcome from the Commanding Officer, but we were greeted by those members of the draft whom we had dropped off at the beginning of the year.
"Life in the hospital turned out to be fairly easy going, apart from the irritating militaristic interferences which took precedence over everything else, or so it seemed. Reveille was at 6 am. Breakfast was at 7 am, after which there was an early morning parade for the purpose of allocating duties and making sure everyone who was on duty was there. It was held on the tarmac in front and to the right of the main entrance and it was too bad if anyone turned up not properly dressed. Anyone caught crossing from the barracks to the hospital without a hat was put on a charge. Regularly, just to make sure we did not become too complacent, there was held at 6 a.m. in front of the barrack block which faced Alexandra Road a session of physical exercises or blanket shaking wearing gas masks. We wondered who thought up that brief torture.
"Much later on when it occurred to Malaya Command that there might be hostilities, we had sessions on the rough ground at the rear of the hospital, dashing about with stretchers and of course revising how to apply field dressings and Thomas' splints. We treated it all as a big joke and nuisance. Still life went on quite peaceably and we learned how to dodge trouble from too officious N.C.O.'s."
II. Visiting the neighbourhood Kampongs...
[Click upon pictures for larger images, which take longer to download.]
"Tall trees and coconut palms hid our northern view, but 50 yards or so along the Alexandra Road there were small Chinese kampongs [villages] and a very interesting general dealer shop made of bamboo and atap, choc-a-block full of weird and wonderful things to our unaccustomed eyes. Smells too. During the day time we could buy from a stall outside the shop giant pineapples at 5 cents each. There were plantations of pineapples, papaya, and towgay [bean sprouts] between the hospital and oil tanks.

[Click upon picture for larger image, which takes longer to download.]
"I and my two closest friends frequently walked around the area, being interested in the local people and their activities. The land opposite the hospital on the other side of the Alexandra Road contained old rubber plantations and coconut groves. There were many kampongs occupied mainly by Chinese but with some Malays and Indians."
---